Wentsville Contra Dance
5th Saturday Community Dance on Saturday December 29, 2018!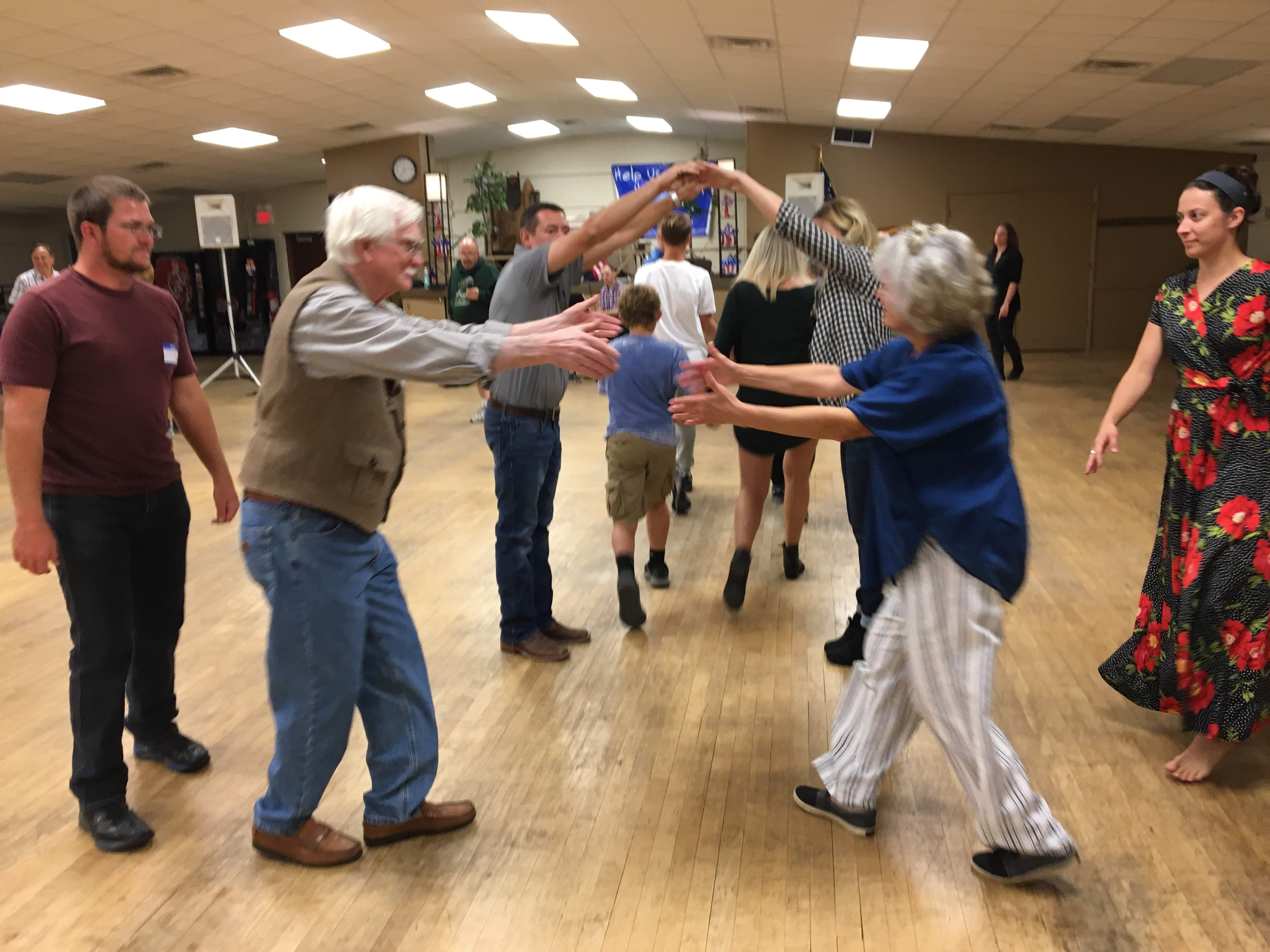 Contra is coming to St Charles county , and
you're invited
.
If the holidays stress you out have we got a gift for you! Leave all the running and shopping and cooking behind and join us for delightful DE-stressing: Fun mixers & contras - huge dance floor - sprightly music featuring the amazing Roger and The Nethertones - playful calls by Mac McKeever - glo sticks to light you up.
Recommended for ages 8 & up.
Younger children welcome with parental supervision.
Potluck snacks welcome.
Requested donation $7 for adults; $3 for children age 8-17. Maximum per family is $20.
Many thanks to our Childgrove Dance Angels and a $3 gas allowance discount.
Search for 5th Saturday Community Dance on Facebook,
Contact us via email:
This email address is being protected from spambots. You need JavaScript enabled to view it.
or call John at (636) 336-2521 if you have questions.
NOTE: severe weather may cause us to cancel; our Facebook page will have updates or send us your email to get a direct report.
We are another fabulous event sponsored by nonprofit Crossroads Arts Council. Thanks also to the generosity of the philanthropic Wentzville Community Club.
WHO
The dance this month features calling by Mac McKeever and music from Roger and the Nethertones
WHERE
Wentzville Community Club
, 500 W Main St., Wentzville, MO 63385
WHEN
Join us 6:30pm for newcomers' instruction, then dance from 7-9pm.
ADMISSION
Adults 18 and over, $7
Kids 8-17, $3
Under 8, free
Maximum per family: $20
This kind of dancing is fun & friendly - especially if you think of yourself as a nondancer. (We can change that!)
NEXT DANCES: March 29, 2019, June 30, 2019 and (hopefully) every 5th Saturday thereafter.
QUESTIONS? Ask Cynthia via
This email address is being protected from spambots. You need JavaScript enabled to view it.
.
Sponsored by Crossroads Arts Council & Wentzville Community Club.