Family Dances - now on hiatus, but stay tuned!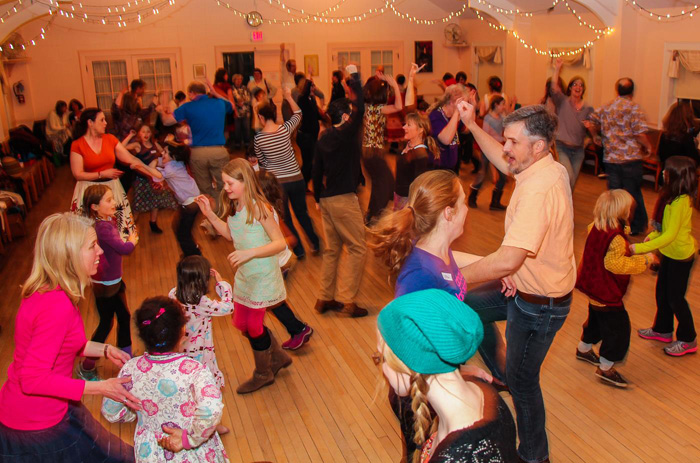 The Childgrove Family Dance was sponsored jointly by the Waldorf School of St. Louis and Childgrove from 2013-1015. It's on hiatus now, but rumor has it that there may be a rebirth of some sort in the somewhat near future.
Here's what we said about our Family Dances when we had them:
All are welcome: young and old, new dancers and experienced ones! Bring yourself and your children or grandchildren. We call simple, fun dances anyone can do to live music. All of the dances are designed so that children who are uncomfortable dancing with people they don't know yet can stay with the person they chose to dance with - a parent, grandparent or friend.
DO I HAVE TO KNOW HOW? No prior experience is necessary to enjoy the dance. All of the dances are taught and walked through, and when the music plays, the caller continues to prompt the dances. There is usually much laughter and fun, and "mistakes" are treated as a part of that fun.
WHO: Children and adults of all ages are welcome. We've seen 4-year-olds who get awfully good at this, but it's probably better for children age 6 and up. We choose dances that are fun for kids to do with their parents, so please come prepared to join in!
WHEN: The Family Dance is from 6:30-7:30pm on first Saturdays. There is another dance, the Callers Choice Dance, which starts at 8:00pm after a short introductory workshop. People who attend the Family Dance are welcome to stay for the Callers Choice Dance at no extra charge.
FEE: Children, $3 each. Adults accompanied by children, $5. Families - maximum $16. Unaccompanied Adults: $7.