Callers Choice Dances
First Saturday Open Calling Contra Dance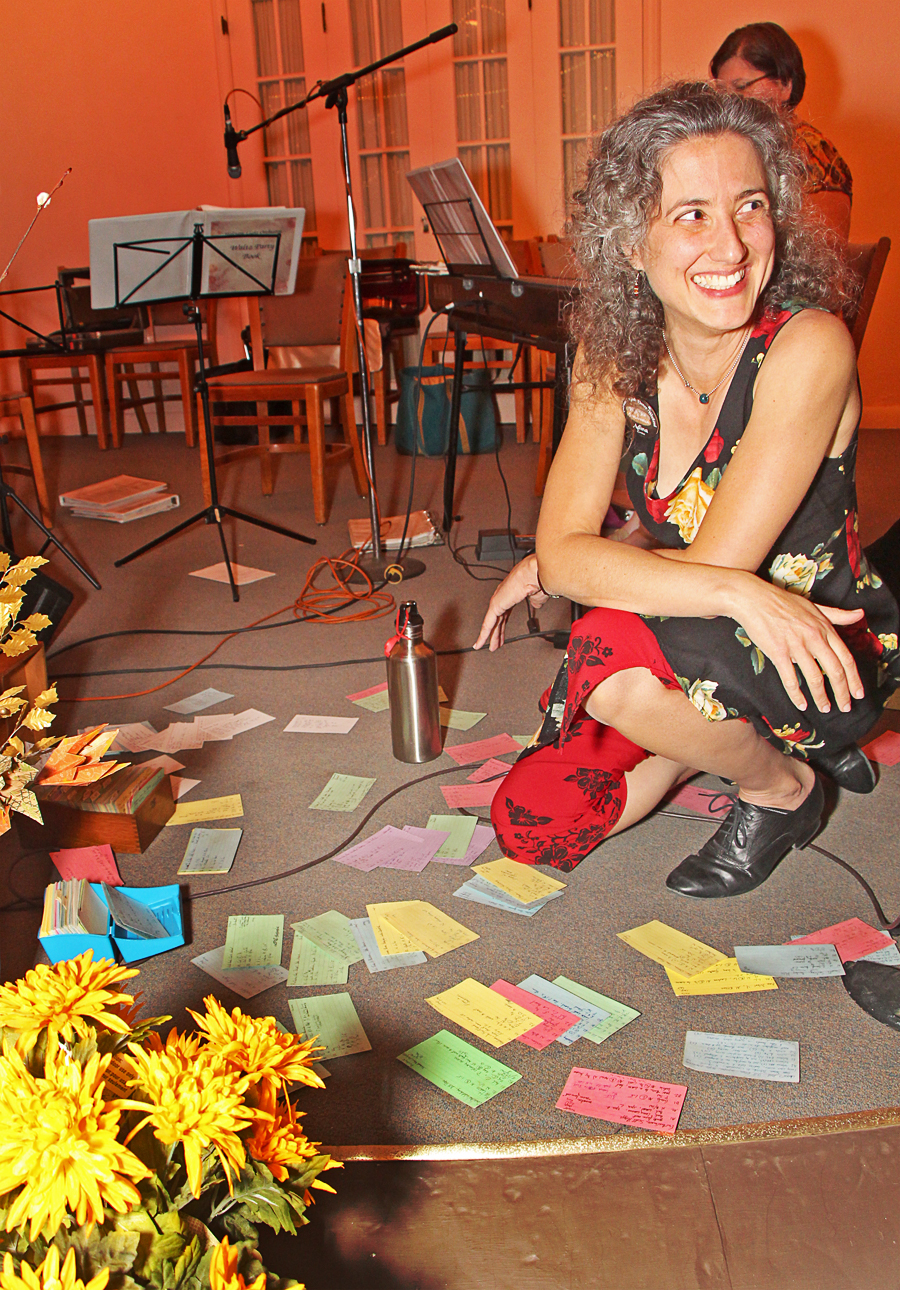 Adina Gordon choosing dances.
A Callers Choice Dance is a Contra Dance featuring open calling. Anyone can apply to call one or more dances at a Callers Choice dance (just send an email to This email address is being protected from spambots. You need JavaScript enabled to view it.). It's usually pretty much a straight contra dance, though the callers reserve the right (the "choice") to call whatever they agree is okay to call. Callers Choice dances tend to be really fun - the multiple voices add interest, and, since several of our callers are also kick-ass dance writers, new dances (after being vetted at Calling Parties) often make their first public appearance at these dances.
The Callers' Choice dances are on 1st Saturdays from 8:00-11:00 p.m. at the Monday Club, 37 S. Maple Avenue, Webster Groves, MO. Free basics workshop at 7:40pm. Admission sliding scale $7-$10, Under 30 $5.
Anyone can request a spot by writing to This email address is being protected from spambots. You need JavaScript enabled to view it.. Just be prepared to talk him into it.
Upcoming dances in 2018
July 7, 2018 - Martha Edwards and Friends
August 4, 2018 - Three Crooked Men
September Callers Choice Dance cancelled - it's the High Tea weekend, and there's an English Ball that night - If it's not sold out, come! Check the English Country Dance page to be sure.
October 6, 2018 - Roger Netherton
November 3, 2018
December 1, 2018
Past dances in 2018
January 6, 2018 - Cancelled - all the callers want to go to Jan Jam in Champaign-Urbana, IL
February 3, 2018 - Blind Pig
March 3, 2018 - Cancelled - the callers are going to Chance Dance in Cape Girardeau.
April 7, 2018 - Ellen Gomez and Friends
May 5, 2018 - Boney Goat Band
June 2, 2018 - John Laufersweiler & Libby Swanger
Past dances in 2017
January 7, 2017 - Ragged Robin (Billy Boyer and Martha Edwards)
February 4, 2017 - Roger Willco (Roger Netherton and Billy Boyer)

March Callers Choice Dance

cancelled - we're all going to Chance Dance in Cape Girardeau
April 1, 2017 Hmm...April Fool's Day. What could go wrong? - Roger Willco (Roger Netherton and Billy Boyer)
May 6, 2017 - Ragged Robin
June 3, 2017 - Ragged Robin
July 1, 2017 - Three Crooked Men
August 5, 2017 - - Ragged Robin

September Callers Choice Dance

cancelled - it's the High Tea weekend, and there's an English Ball that night - come!
October 7, 2017 Special Free Dance - it's Jim Hemphill and Mariah Fabry's 25th wedding anniversary, and Billy Boyer and Roger Netherton are playing!
November 4, 2017 - Ragged Robin (Billy Boyer, Aileen Murphy and Larry Boyer)
December 2, 2017 - Ragged Robin
Past dances in 2016
January 2, 2016
February 6, 2016
March 5, 2016
April 2, 2016
May 7, 2016
June 4, 2016
July 2, 2016
August 6, 2016
September 3, 2016
October 1, 2016
November 5, 2016
December 3, 2016
Past dances in 2015
January 3, 2015, music by Roger Netherton and Friends
February 7, 2015, music by The Coffee Zombies, from Louisville and Indianapolis
March 7, 2015, music by the Mound City Slickers
April 4, 2015, music by Ragged Robin
May 2, 2015, music by Ladies at Play from Oklahoma City (and we're celebrating Larry and Carol's wedding!)
June 6, 2015, music by Roger Netherton and Friends
July 11, 2015, music by Ragged Robin
August 1, 2015, music by Ragged Robin
September 5, 2015, cancelled
October 3, 2015, music by Ragged Robin
November 7, 2015, music by Ragged Robin
December 5, 2015, music by Ragged Robin
Past dances in 2014
February 1, 2014
March 1, 2014
April 5, 2014
May, 2014
June, 2014
July, 2014
August, 2014

September 6, 2014

6:30pm Family Dance with Ragged Robin
8:00pm Callers Choice Dance

October 4, 2014

6:30pm Family Dance
8:00pm Callers Choice Dance

November 1, 2014

6:30pm Family Dance
8:00pm Callers Choice Dance

December 6, 2014

6:30pm Family Dance
8:00pm Callers Choice Dance
Past dances in 2013
February 2, 2013 - Groundhog's Day (6 more weeks of Winter, or an Early Spring?)
March 2, 2013
April 5, 2013
May 4, 2013
June 1, 2013
July 6, 2013
August 3, 2013
September 7, 2013
October 5, 2013
November 2, 2013
December 7, 2013
Past dances in 2012
Feb 4, 2012 - Music from Roger Netherton and Friends
Mar 3, 2012 - Double Treble (Roger Netherton, Alice Sanvito and Rich Hibbs)
Apr 7, 2012 - Reel Women (Kristin Graham and Martha Edwards)
May 5, 2012 - Reel Women (Kristin Graham and Martha Edwards)
Jun 2, 2012 - Reel Women and the Jigelos (Kristin Graham, Ben Schreiber, Mike Brown and Martha Edwards)
Jul 7, 2012 - Reel Women and the Jigelos (Kristin Graham, Ben Schreiber and Martha Edwards)
Aug 4, 2012 - The Night Crawlers (Kristin Graham, Ted Vaszquez, Rich Hibbs)
Sep1, 2012 - No Callers Choice Dance - come to High Tea & Sarsaparilla instead
Oct 6, 2012 - Boney Goat Band
Nov 3, 2012 - Old Missouri (Roger Netherton and Rich Egan)
Dec 1, 2012 - The Lulus