What is English Country Dancing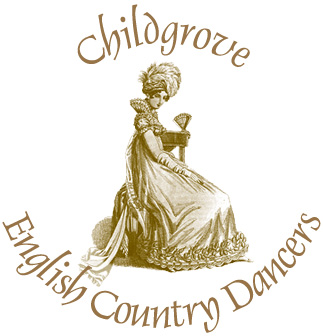 Fenterlarick, at the Monday Club March 16, 2012,
with Keith Tuxhorn calling, music by Kristin Graham,
Martha Edwards and Lisa Gilbert
More videos of English Country dances
are available at the Dance Video Archives.
Schedule of English dances here.
About English Country Dance at Childgrove
The English Country Dance group has been a member of the Childgrove family of dances since January of 2010. It was started in 2009 as a "contra friendly," dance that would provide basic instruction for people who are already skilled at contra dancing as well as for new dancers - think "English as a Second Language" or "English Country Dancing with Contra Subtitles."
Since that time, quite a few contra dancers have been surprised to find out how much they enjoy this lively percursor to the modern, "zesty" contra style. The music is more classical - and varied! - than at our contra dances, but just as driving and fun.
In addition, CECD seeks out the more-recently-written dances that also suit a contemporary sensibility. There seems to be a movement in many parts of the U.S. to combine the elegance and sophistication of the "Jane Austen" period with the casual good humor and energy of the twenty-first century American contra community. The CECD is squarely in that camp.
Read more about us in an article that appeared in the local Ladue News in March of 2016, and one from the South County Times in July of 2017.
High Tea
The Childgrove English Country Dancers started High Tea and Whiskey, an English/American Dance weekend, in 2009 to further encourage our contra dancers to enjoy the pleasures of English Country Dancing. A few years later, the name was changed to High Tea and Sarsaparilla because some of the fine ladies of the Monday Club objected to the word "Whiskey" on the flyers. We assured them that no actual whiskey was ever involved, but changed the name anyway.
In 2015, we determined that there were enough attendees who were passionate about the English portion of the weekend, that we could have an English-only weekend, so we changed the name again, this time to simply "High Tea." Read more about HIgh Tea here. Ever since (except for the Covid years), it's been a sold-out event, so keep your eye on the calendar and sign up early next year!
Callers and Musicians at Childgrove English Country Dance Events
The Childgrove Country Dancers have been bringing high-level English Country Dance callers to St Louis from the beginning - Joseph Pimentel in 2009, Joanna Reiner in 2010 (and again in 2019), Susan Kevra in 2011, Adina Gordon and Kathy Anderson in 2012, Bruce Hamilton and Gaye Fifer in 2013, Chrissy Davis-Camp in 2014, Brad Foster in 2015, and Sharon Green in 2016, Bruce Hamilton again in 2017, and Gene Murrow in 2018. We've also had some excellent musicians: guest artists Pamela Carson Stoll, Kendall Rogers, Jane Knoeck, Miranda Arana, Shanda MacDonald, Kathy Dagg, Patrice Pakiz, Amanda Ramey, Karen Axelrod, Jonathan Jensen and Dave Wiesler have joined local favorites Martha Edwards, Ben Schreiber, Lisa Gilbert, Billy Boyer, Aileen Murphy, Tim Hirzel, Justus Matthews, Tim Lilly, Kristin Graham, Roger Netherton and Alyssa Catlin to provide lively, beautiful music for dancing.
English Dances at the Monday Club - starting up again

We're hoping that the pandemic keeps going away so that we can continue to dance English happily and freely. For now, we do require proof of vaccination and recommend the wearing of good masks, just as at the contra dances. We'll be looking to drop those requirements just as soon as the world gets safer again. If vaccination is really not your thing, we hope you won't mind waiting a bit longer before coming to our dances. We really do want to dance with you! But we also want everyone to be safe...
Second and Fourth Fridays - regular dance - Dancing to live music from 7:00-9:30pm, starting on Friday, July 22, 2022. The regular dance generally starts out with simpler dances early in the evening, progressing to dances with more difficulty later on, depending on the experience level of the crowd. $10.
English Country Dance Balls - once or twice a year - workshop at 7:00pm, dancing to live music from 7:30-10pm.


High Tea Ball on the Saturday of Labor Day weekend (September 3, 2022). You must be registered for the whole weekend, which is often sold out early. We haven't put up the registration yet, but we will! This year's dance will be wonderful - Earl Gaddis (of Bare Necessities fame), and the wonderful pianist Dave Wiesler will be joined by our own Martha Edwards, and the caller will be Orly Krasner, a wonderful caller from New York.
Yuletide Ball in December